"Resources like this help us spread the word and give our audiences some role models to empathise with."
Debbie Hastings, Wakefield Council Health and Wellbeing Activators
Roll Up, Roll Up, Time for the freebies
Resource guides
Click on the images below to download our great resource guides for the Ping Pong Care Campaign. Remember to check out the Activity Checklist at the bottom!
Our super condensed introduction to the campaign - everything you need to know in just 2 pages

First steps and what to do to get involved in the campaign

 

Hints and tips on things to think about before your screening of the Ping Pong film

Everything you need to know about your pack and how to get the most out of it

Want to take it further? Read up here on advice for table tennis enthusiasts

 



Exercise Posters for you to display by your table!
Download this poster to help people start play on their own and learn to balance the ball on the bat

 

 

Want people to start up their own mini challenges? Print off this poster to give people ideas on simple exercises to get started

The challenge poster. Print this off big and watch the competition grow
Activity Check List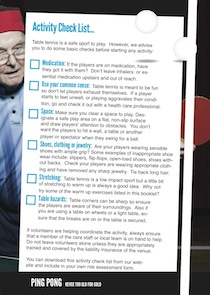 Table tennis is a safe sport to play. However, we advise you to do some basic checks before starting any activity.
You can download a word version of this checklist here in order to create your own Risk Assessments.