"People's reaction to the film is mixed; some laugh, others are amazed. Everyone is inspired by what can be achieved by older people, despite the health issues portrayed. Almost everyone engaged surprise themselves by what they can do…and by how much fun they have whilst playing! It's an excellent way of engaging with older people and groups."
Earle Jacotine, Ping Pong Volunteer
What To Do, What to do?
First a Ping: Screen the Film
If you have connections with local groups that would enjoy and benefit from seeing Ping Pong, why not host a screening...it's a wonderful opportunity to bring your residents, members, staff and wider community together and inspire people to play.
Here's what you need to do:
Get a Ping Pong Care Pack: it comes with everything you need to host a screening to any audience and organise play. Apply for your FREE Ping Pong Care Pack here.
Find a suitable venue and set a date: anything from a care home to the local community centre is fine, just as long as there is spaces for people to sit, a working TV or screen and a DVD player.
Let people know it's happening: we have created an online poster that you can adapt with information of your screening. Head to the poster maker on the resources page, fill in your details and print off your personalised film poster.
A screening doesn't have to be a big thing. You can just have a few people infront of a TV if it has a DVD player. Just wait for the audience reaction!
Then a Pong: Starting to play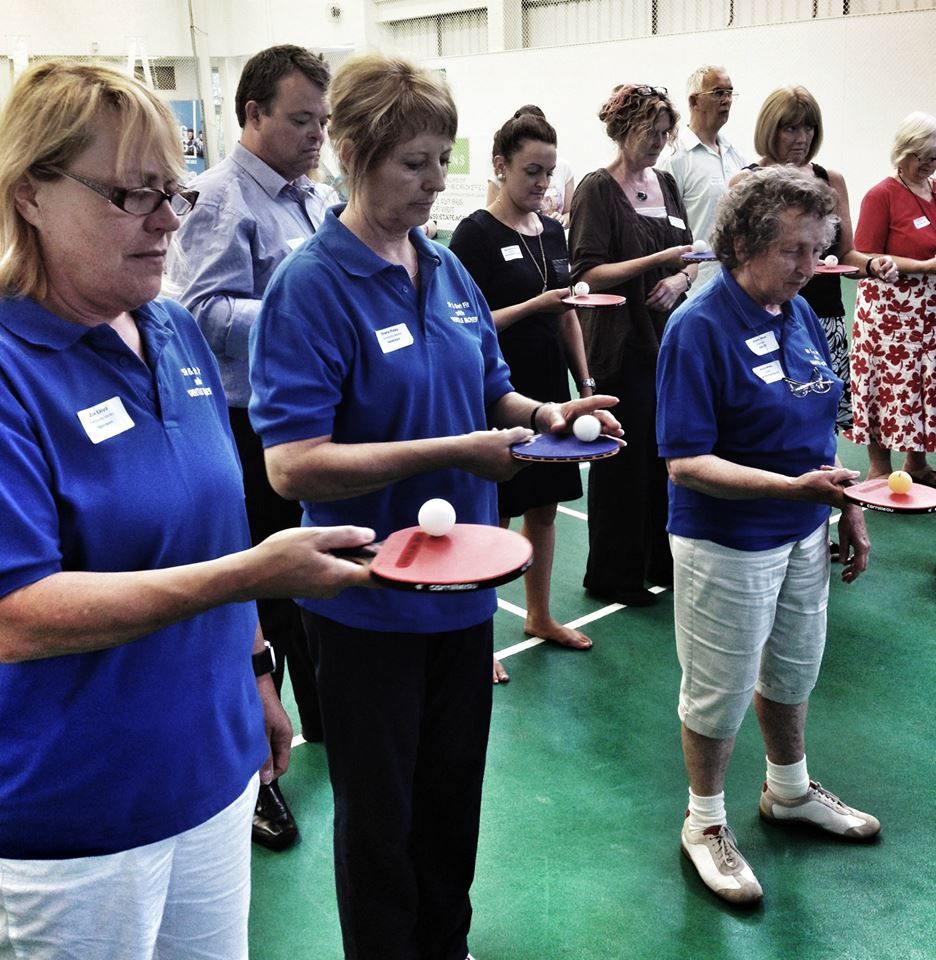 Once people have seen the film, be ready to start playing! The best way to get people playing straight away is with the special Ping Pong Care Pack we've created...
It's got everything you need to get started, including;
DVD: including screening rights so you can show the film to any audience in any location
Rollnet: turn any table instantly into a ping pong table
Bats & Balls: there are enough to get a game going
Instructional Video: a 10 min DVD extra that takes you through all the basics
Ping Pong Booklet: some simple game ideas to put your learning into practice
It's a perfect introduction to ping pong and has something for everyone, regardless of age, ability, and mobility.
How do I get a Ping Pong Care Pack?
The Ping Pong Care Campaign has 2000 free packs for older person settings that fall within our funding remit, or you can buy one today from our shop for just £125.
If you're interested in receiving a pack, get involved!
The Sit and Get Fit Ladies start to play with simple exercises like balancing the ball on the bat, great for hand eye coordination and concentration, at our Exeter Awareness Event
Now Ping your Pong: Get volunteers on board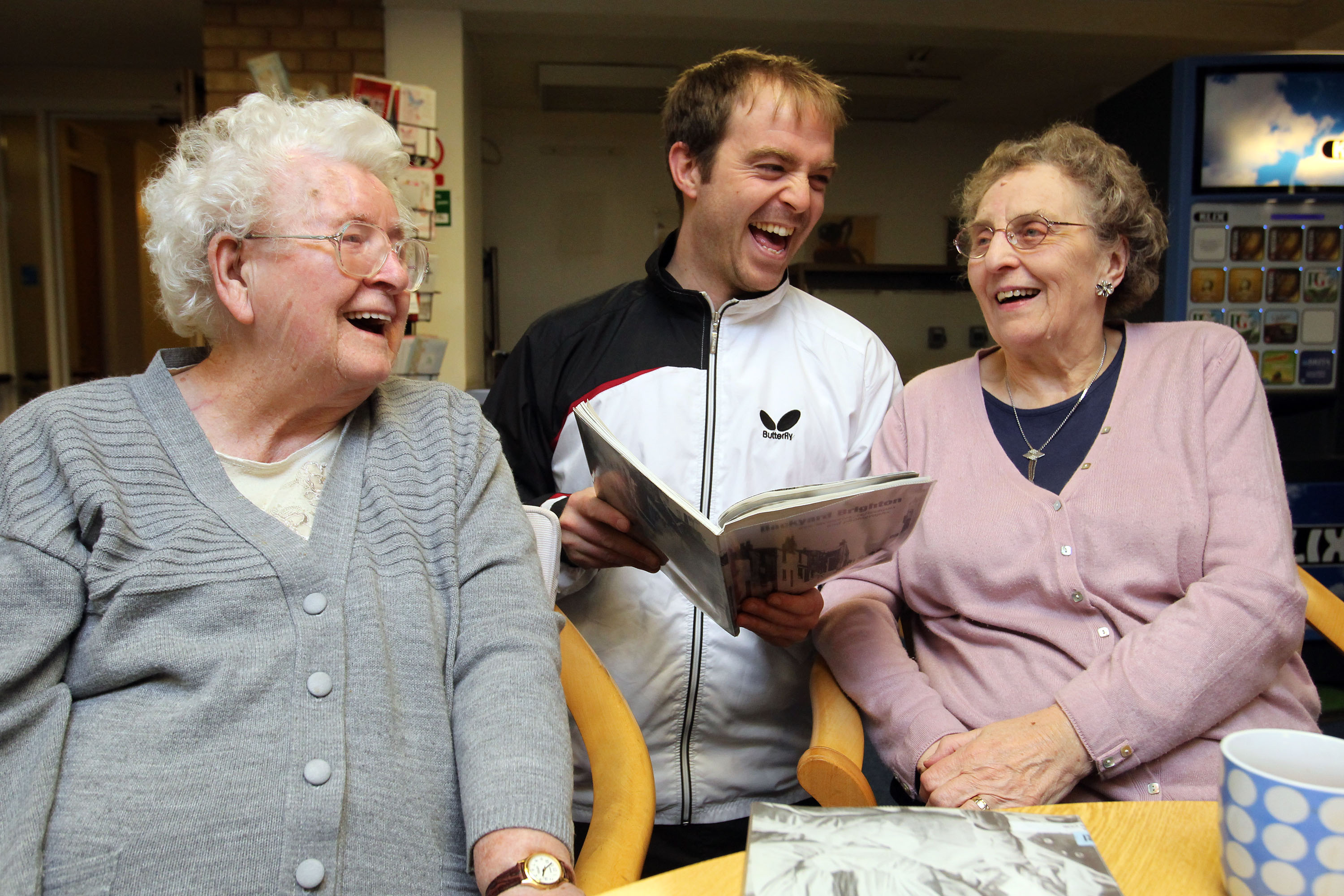 Don't forget, this campaign rests on community involvement.  Look for local schools to link in with and start some intergenerational activities.
Tim Holtam from Patcham High School volunteers at local sheltered accommodation Elwyn Jones Court. Find out more about our work with schools here. Thanks to local photographer Steven Lawrence for this image
Ping Pong on!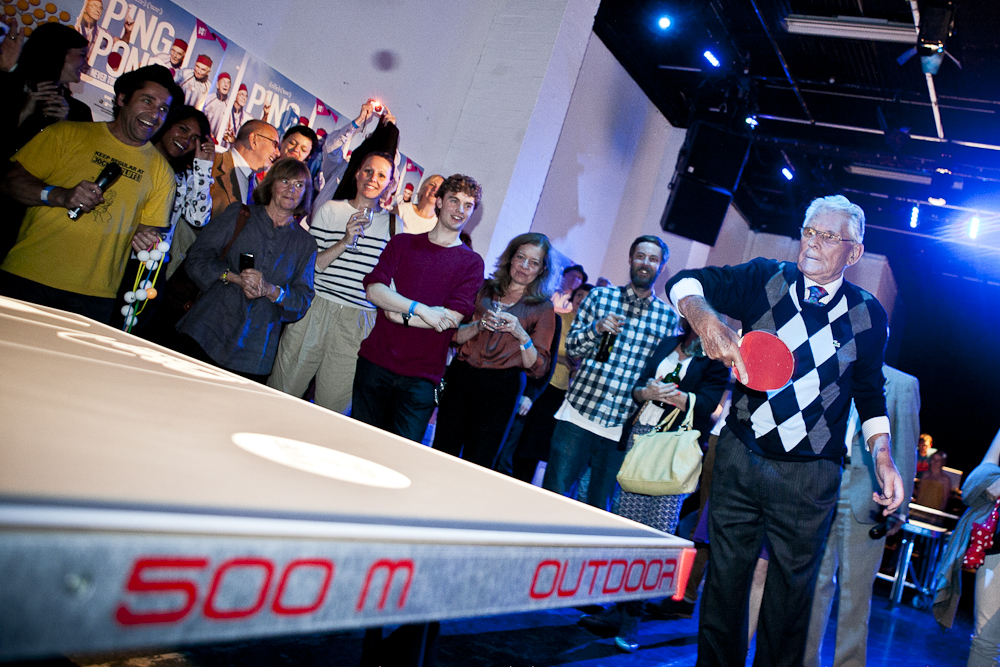 Now you're hooked, here are some great ideas of how to take it further.
We are working closely with the England Table Tennis Association (ETTA) – the governing body and home of table tennis in England – who are ready to help you with anything you need to take your ping pong play to the next level. They can show you how to;
Organise regular play: anything from monthly come & try sessions to weekly game nights
Set up a club: get some competition and coaching going for your residents and members
Join a local club: for your residents or members who are ready to join a club for a more serious knock-about
Start a league: create some teams and invite other homes or clubs in the area for some fun competition
Coaching: talk to the ETTA about finding a local qualified and experienced coach who can come right to you
Find your region's ETTA representative here or even locate your nearest table tennis club via the ETTA's Spotlight map.
Terry plays at one of our Ping Pong screenings 2012. Where might Ping Pong take you?
Train me up, Scotty!
If you are an activities coordinator, or work with older people and want to get more involved, the ETTA have loads on offer for deliverers and volunteers, from coaching to umpiring, to becoming a Ping! Maker (part of Sport England's Sport Maker programme).  There is something for everyone!
To find out more, get in touch with Judy Rogers at jrogers@etta.co.uk